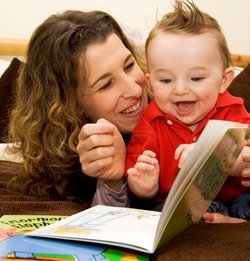 Toddler learning games provide much of your child's knowledge and education in their early years. Educational professionals have long recognized that babies and young children learn most of their life skills in this way. This is therefore a testimony to the importance of game play. Consequently, one of the most important things you can do for your toddler is to indulge their appetite for learning games as often as possible.
Toddler learning games will help your child to learn logical thinking. It will teach them to use their memory and also to develop skills such as matching pairs. These are skills that are instrumental in day-to-day life. They also bring to life the underlying principles in math and reading.
Simple card games like snap teach your toddler to recognize shapes and numbers. As they progress, they will be processing the information more efficiently. Another easy game is dominoes. Here your child can find matching pairs and perform simple addition. Your child will also learn the shapes that multiple dots make. Other toddler learning games that aid in your child's development are those that require physical play. Hopscotch and skipping need co-ordination and usually involve counting skills.
For the younger preschooler, shape sorting games and building blocks will develop fine motor skills and logical thought. Toddler learning games reinforce the skills that your child might receive at preschool. They can also bring adult and child closer together.
This is particularly helpful because your child has the opportunity to overcome any reluctance they may be experiencing communicating with adults. Interaction with adults is, of course, the situation they will encounter at school. A fruitful and rewarding relationship there can ensure your child's success in the classroom. This will ultimately spill over into their everyday life.
So don't hesitate to play with your child. Maybe you will learn what makes them tick. Make education fun and effective for your child with toddler learning games.
Comments
comments